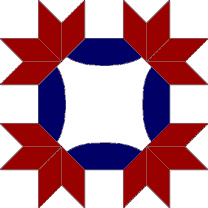 Welcome to the Chelmsford Quilter's Guild Web Site. We are a large group of quilters of all experience levels and many interests. We welcome you to learn more about us through the links to the left.
May 18th evening Meeting:
Judy Damon: "Stash Happens"
Judy Damon wants to know "Are you drowning in your stash? Do you ever spend more time hunting for a tool than using it once you've found it?" Judy promises dozens of tips for storing everything from fabric and scraps to tools and books. Join us for a light hearted and information packed look at organizing the space we love. A lifelong sewist, Judy is the former owner of the Hollis, NH quilt shop Quiltopia. After closing the shop, Judy began Judabelle Quilts designing quilt patterns, lecturing and teaching. Check out her website quiltopia.com and don't miss Judy at the May meeting.


Duck, Duck, Goose: A Fowl Challenge - It's time!
Don't forget to bring your challenge quilt to the May meeting, and drop it off at the challenge table as early as possible. All present at the meeting will be asked to cast a vote for their favorite quilt. Prizes will be awarded to the three (3) quilts with the most votes. Good luck to all.
UFO Challenge
Last call for finished UFOs to be entered into our raffle. Bring them for show and tell.
Row by Row Round Robin
Be sure to bring the final top to the meeting for the unveiling!

May 18th, 2015
at 7:00pm
St. John the Evangelist Church
115 Middlesex Street
No. Chelmsford, MA 01863
It's that time - Fill out your membership form: click here to print and fill it out in advance to save time.

Nancy Fabbri scholarship
At the March guild meeting we heard that there's a group organized to set up a memorial scholarship in Nancy Fabbri's name. If you would like more info, you can look here.

Exchanges and Activities scheduled:
Refreshments If your last name begins with L, M, or N, please bring in a refreshment this month. Anyone else who would like to bring in a refreshment is welcome to do so. If you bring in a refreshment, put your name in the basket for a chance to win the centerpiece.

Block of the Month, Rockin' a 10" Block Exchange, Raffles, Comfort Quilts, UFO Challenge and Duck Duck Goose Challenge, Show and Tell (if there's time) and more!
Guests are always welcome to attend our guild meetings. Guest fees are $5 for nights when we have a speaker, $3 to attend other meetings. See the Calendar for this year's programs.
Meeting Cancellation Policy:
In cases of inclement weather, check your email or the website before heading out to a meeting. Or you can call one of the guild officers.
Open Sew Come and join the open sew at Chelmsford Senior Center, 75 Groton Road, North Chelmsford. Dates: Wednesday March 11, Wednesday March 18, Monday April 6, Wednesday April 15, and Wednesday April 22 from 6:30 to 9:30 pm! Contact Jean Whiting for more info.

By the way, if you are 'of a certain age', you can join our Elder Quilters at 1 o'clock on Mondays at the Senior Center. Bring your project, sandwich a quilt, do whatever you want. The lighting is excellent, the company is good, and we welcome drop-ins.
Note: Tina van Roggen, Anne Gallo, and Sue Raban gave a brief talk and demonstration of "disappearing" blocks at the November meeting. You can find the handout here.

If you have problems with or questions on the web site, wish to suggest more page topics or links, or add your business to our links pages, please contact the Web Manager.