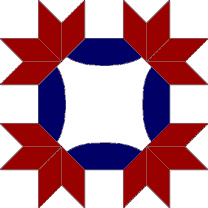 Welcome to the Chelmsford Quilter's Guild Web Site. We are a large group of quilters of all experience levels and many interests. We welcome you to learn more about us through the links to the left.
November 23rd evening Meeting:
Speaker: Linda Pearl - "Ten Quilters You Should Know and Why"
On Monday, November 23rd, Linda Pearl will give a presentation on the changes in modern American quilt making in the past four decades. Beginning in the early 1970s, with an exhibition at the Whitney Museum in NYC, quilt making has advanced rapidly through technology and the efforts of these women: Jean Ray Laury, Bonnie Leman, Jinny Beyer, Marti Michell, Karey Bresenhan, Mary Ellen Hopkins, Eleanor Burns, Carol Doak, Harriet Hargrave, and Elly Sienkiewicz. Did you ever wonder how we came to have all the wonderful 100% cotton fabrics available to us wherever we are? Or who brought the Rotary Cutter to quilters? Join us to learn how they paved the way for us to enjoy quilting in the 21st century.

2015-2016 Challenges
See our Challenge page for information on this year's new 35th Anniversary Challenge and our UFO challenge!


November 23rd, 2015
at 7:00pm
St. John the Evangelist Church
115 Middlesex Street
No. Chelmsford, MA 01863
It's that time - Fill out your membership form: click here to print and fill it out in advance to save time.

Exchanges and Activities scheduled:
Refreshments last name Brook through Duffy - please bring in a refreshment this month. Anyone else who would like to bring in a refreshment is welcome to do so. If you bring in a refreshment, put your name in the basket for a chance to win the centerpiece.

Guests are always welcome to attend our guild meetings. Guest fees are $5 for nights when we have a speaker, $3 to attend other meetings. See the Calendar for this year's programs.
Meeting Cancellation Policy:
In cases of inclement weather, check your email or the website before heading out to a meeting. Or you can call one of the guild officers.
Open Sew Join fellow members for open sewing time at the Chelmsford Senior Center, 75 Groton Rd (Rt 40). Currently scheduled dates are November 2, 9, and 18, Monday, December 7; Monday, January 4; and Wednesdays January 13 and 20, from 6:30-9:00 pm. Come for all or part. Bring a project or just come to socialize. You will find great lighting, large tables, an iron, cutting mat, and fabrics which may be used for comfort quilts.

If you have problems with or questions on the web site, wish to suggest more page topics or links, or add your business to our links pages, please contact the Web Manager.