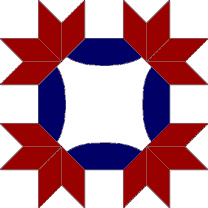 Welcome to the Chelmsford Quilter's Guild Web Site. We are a large group of quilters of all experience levels and many interests. We welcome you to learn more about us through the links to the left.
February 23rd evening Meeting:
Amy Lindsay, Member in the Spotlight
Join us for a wonderful trunk show by Amy Lindsay and see over 25 of her spectacular quilts. She will focus on how her thinking and problem solving have evolved over many years as a quilter.
Amy's quilt, "Catherine Wheels", was the winner of the Viewer's Choice award at the CQG Show in 2012 and another of her beauties, "Learning Curve", was chosen to represent our Guild as part of the NEQM's 25th Anniversary celebration as well as winning an Honorable Mention at the Experimental Aviation Association's Annual Art Show. Semi-retired, Amy now concentrates on being a quilter, writer, blogger (quiltingpiecebypiece.wordpress.com) and cat lover.
More Before at 6:30 pm - Fidget Quilts, Carlene Craib
Fidget Quilts are made from a variety of textures and objects that dementia or Alzheimer's patients find appealing as their once busy hands search for something to occupy them. These small, simple quilts give a patient a comforting item to hold and handle as the disease progresses and their hands become more nervous and fidgety. Carlene and her granddaughters will offer you inspiring ideas and examples. Join them before the meeting at 6:30.

February 23rd, 2015
at 7:00pm
St. John the Evangelist Church
115 Middlesex Street
No. Chelmsford, MA 01863
It's that time - Fill out your membership form: click here to print and fill it out in advance to save time.

Exchanges and Activities scheduled:
Refreshments If your last name begins with H, I, J or K, please bring in a refreshment this month. Anyone else who would like to bring in a refreshment is welcome to do so. If you bring in a refreshment, put your name in the basket for a chance to win the centerpiece.

Block of the Month, Rockin' a 10" Block Exchange, Raffles, Comfort Quilts, UFO Challenge and Duck Duck Goose Challenge, Show and Tell (if there's time) and more!
Guests are always welcome to attend our guild meetings. Guest fees are $5 for nights when we have a speaker, $3 to attend other meetings. See the Calendar for this year's programs.
Meeting Cancellation Policy:
In cases of inclement weather, check your email or the website before heading out to a meeting. Or you can call one of the guild officers.
Open Sew Come and join the open sew at Chelmsford Senior Center, 75 Groton Road, North Chelmsford. Dates: Wednesday February 11, Wednesday February 18, Monday March 2, Wednesday March 11 and Wednesday March 18 from 6:30 to 9:30 pm! Contact Jean Whiting for more info.

By the way, if you are 'of a certain age', you can join our Elder Quilters at 1 o'clock on Mondays at the Senior Center. Bring your project, sandwich a quilt, do whatever you want. The lighting is excellent, the company is good, and we welcome drop-ins.
Note: Tina van Roggen, Anne Gallo, and Sue Raban gave a brief talk and demonstration of "disappearing" blocks at the November meeting. You can find the handout here.

If you have problems with or questions on the web site, wish to suggest more page topics or links, or add your business to our links pages, please contact the Web Manager.