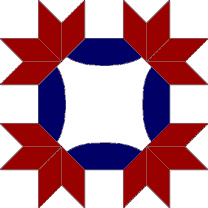 The Chelmsford Quilt Guild Library
Book Reviews, January 2010
The Quilters Ultimate Visual Guide, Ellen Pahl, Editor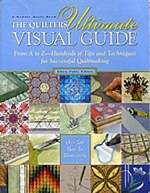 Are you a beginning quilter or maybe a self-taught quilter who would like to refine your haphazard knowledge? From album quilts to zigzag stitches, The Quilters Ultimate Visual Guide has you covered!
This "dictionary" of techniques, tips, and definitions has entries from 60 well-known quiltmakers, each sharing her knowledge and expertise. Combine this wealth of experience with excellent photos and illustrations, and you have a book that will inform and inspire.
There are step-by-step instructions that include several alternative techniques when appropriate, and helpful hints are included in "Try This" boxes. "Skill Builders" give illustrated steps for specific techniques, e.g. single fold binding for non-mitered corners, the 4-patch trick, cutting your own stencils. "Take the Trouble Out Of" notes pinpoint possible problems and provide easy solutions. Because this book is over 10 years old, some things may be out of date (the list of available battings and the section on computers and quilting), but the basic techniques of quilting are timeless and well covered here.
—Carlene Craib
Big Block Quilts: Using Layer Cakes, Sweet 16s, etc!, Moose on the Porch Quilts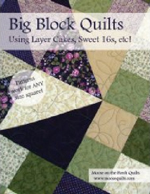 This book provides ideas for making 128 different big block quilts using 10 fat quarters or 10 1/4 or 1/3 yard cuts. Directions are given for using Layer Cakes, Sweet 16s, fat quarters and Charm Packs. While designed for beginners these quilts make up quickly and so offer experienced quilters the chance to try something different without too much work. There are 4 steps to follow for each quilt:
Choose a pattern. The blocks are organized into types of blocks, e.g. half square triangles or rail fence
Organize your fabrics. This may mean completely scrappy, scrappy organized (light and dark), or controlled. Tips help you get your colors right.
Sew blocks together. The instructions are clear but all in black and white.
Lay out and sew quilt. The instructions are minimal here. You might need to refer to more detailed directions for measuring border fabric than "sew on the inner border" if you are a beginner. An appendix provides some instructions for borders but they were not ones that I have had success with.
There are only a few color photos of actual quilts, but they provide some ideas of what a big block quilt is and how fabric choice will determine the look. Try this book for a quick quilt to turn a Layer Cake into a personal expression.
—Carlene Craib