The Chelmsford Quilt Guild Library
Book Reviews, January 2011
The Quilter's Album of Patchwork Patterns, Jinny Beyer
I hope that whoever borrowed The Quilter's Album of Patchwork Patterns by Jinny Beyer enjoyed browsing in it over the holidays as much as I did! I got my very own copy (autographed—as is the CQG copy) and spent hours poring over those fabulous illustrations. I especially liked the Quick Reference pages. They really inspired me to think about a sampler for my next quilt.
And of course all those examples of using border prints also were intriguing. Although I can't say I subscribe to Jinny's "all pieced by hand" habits, I greatly admire the huge contribution she has made to quilt scholarship and history with this phenomenal book. Line up ladies and gentlemen. This will be a "best seller" at the library, I'm sure.
—Carlene Craib
Bits and Pieces: 35 Projects Using Fabric Scraps, Sandi Henderson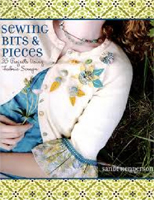 If the Jinny Beyer book validates our efforts as being in the serious and historical realm, this book puts us also in the fresh and creative camp. With fun projects for kitchen, bed and bath, children, parties, crafts, and a few wearables, this book will inspire you to gather up those bright scraps in your stash and spend a pleasant afternoon or evening creating something useful. And the ideas are also great to introduce quilting and sewing to a youngster or newbie.
The author gives just enough information on techniques needed not to be intimidating and uses plenty of shortcuts and fast techniques to keep everyone producing. Who couldn't use some cute new appliquéd towels or a pillow to liven up a couch or bed? The sweet "Colorful Brick Road Skirt" would be perfect for my granddaughters, ages 3, 4, and 5. There are several projects just right for a Girl Scout troop or bazaar sewing as well. The breezy, personal style makes the directions easy to follow, and the illustrations are well done.
Take a look. You may just find exactly what you've been looking for here.
—Carlene Craib