The Chelmsford Quilt Guild Library
Book Reviews, March 2010
Fast, Fun, and Easy Fabric Postcards: Keepsakes You Can Make and Mail, Franki Kohler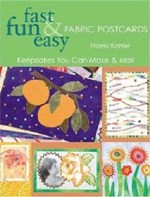 Many of you have been participating in the Guild's postcard swap this year and what a treat it has been for all of us to see your creations! We have a couple of books on postcard making in our library and one of them, Fast, Fun, and Easy Fabric Postcards: Keepsakes You Can Make and Mail, by Franki Kohler has all the information you need to get you started on what appears to be an addictive hobby (as if quilting itself were not addicting enough!).
The first chapter details the basics about supplies and techniques. Most supplies are things you will have on hand, and I liked her style of highlighting easy and fast hints for speeding you on your way and avoiding frustration. The photos and illustrations are clear and well labeled.
Then the fun begins! The six projects are all appealing and take you through a variety of techniques with a page of variation suggestions after each. You will be inspired to use your decorative stitches, get into photo printing, try some simple appliqué, and if you have it, use your embroidery mode. I have seen work featuring angelina fibers but this application seems like a natural and interesting use. This book is not comprehensive but perfect as an introduction to a fun way to vary your quilting experience.
—Carlene Craib
Crazy Quilts: History, Techniques, Embroidery Motifs, Cindy Brick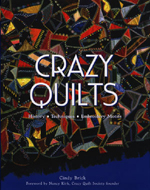 One of our newest books is Crazy Quilts: History, Techniques, Embroidery Motifs by Cindy Brick. Anyone who had stood in awe in front of the crazy quilts in the bedroom exhibit at the NEQM will find much to love in this book. The first part of the book is a history of crazy quilting. The very comprehensive survey of crazy quilting looks "not only (at) what was being made and when—but also why." The author begins with a detailed study of the famous Maryland Kaleidoscope quilt from 1839, perhaps America's oldest dated crazy quilt. Then she blends discussion of specific quilts with information about techniques, fabrics, and trends as seen in the many magazines devoted to the hand arts of the times. I especially enjoyed the section devoted to the fascination with oriental designs that influenced quilting in the 1800s.
By 1884 the author tells us "The Crazy had become king," and she writes knowledgeably about many aspects of the craze for crazies including advertising and the way manufacturers cashed in on the trends. She then discusses some of the popular themes found in crazy quilts. The history continues, showing how fads waxed and waned from a revival of crazy quilting in the depression and to another in the 1970s during our Bicentennial era. The modern emphasis on embellishments brings the crazy quilt up to the minute and the author takes a long look at the work of Judith Baker Montano whose "book on crazy technique and embellishments…permanently changed how modern quilters approach crazy quilting."
The illustrations in this book are superb. The many close up photos provide incredible looks at the details of the quilts and the colors are vibrant.
The second half of the book is a primer on how to make a crazy quilt. It is thorough, detailed, and full of fabulous examples to inspire you. A final section on embroidery and embellishment hints offers great ideas to finish off your handiwork. An appendix includes a variety of embroidery motifs.
This book is really something special. It documents an important part of our quilting heritage. As Nancy Kirk of the Crazy Quilt Society said, "They (crazy quilters) invented a form of abstract art a generation before the painters who became famous for it." If you have even a passing interest in crazy quilting or if you are just in the mood for a tour through a completely fascinating part of quilt history—check it out!
—Carlene Craib