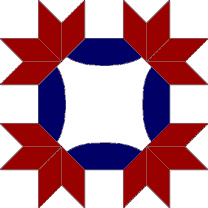 The Chelmsford Quilt Guild Library
Book Reviews, April 2010
Spotlight on Scraps, Cindy Walker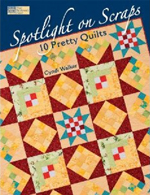 Spotlight on Scraps features "10 pretty quilts" and author Cyndi Walker challenges readers to dive into their scrap stash to come up with inspiration to make them. To someone whose stash sometimes seems out of control, this approach is very appealing and the quilts really are pretty and offer some great ideas
She begins with some useful tips on how to work with the many types of prints you no doubt have and then talks about how to "build a successful palette." The usual basic explanations follow. What really shine in this book are the ten examples. I liked the fresh color ideas (several reds and 2 featuring bright yellow). The combination appliqué and pieced quilts were interesting and in a variety of difficulty levels. Her new take on some traditional blocks (stars, log cabin, hourglass, and snowball) as well as some interesting approaches to borders added to this book's appeal. Two appliqué patterns, one with cherries and one with lemons would make great summer table toppers.
Look to this offering from our library to get you in a spring stash-cleaning mood!
—Carlene Craib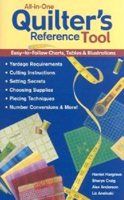 Whenever I work on an original quilting project, I am always thankful that my husband is an engineer. Although I never would have admitted that "math will be useful" to my high school geometry teacher, having quilting as a hobby has made me believe it! But here come four super quilters to my rescue. In this little spiral bound booklet are the answers to many of quilting's most vexing questions.
After the index there are two pages with a series of common questions and the pages where the answers may be found. Example: How do I cut bias binding? How much fabric do I need for backings, borders, or bindings? From charts detailing what sizes quilts need to be for various sized beds, to diagonal measurements of squares, rotary cutting numbers for side and corner setting triangles, and yardage requirements for various sized bias bindings—this book has it all.
It's not a book for inspiring, but rather for the inspired! You want to design your own quilt from scratch but how much yardage do you need for borders or those hexagons? This book could save you many headaches and heartaches (e.g., when you have 69 hexagons cut and need 72 and the fabric is gone and you don't remember when or where you got it!). You might find the construction tips here in other places, but I've never some across so many useful tables for establishing sizes, cutting, and yardage information all in one place as here. Not bedtime reading, but indispensable to anyone designing original quilts.
—Carlene Craib