The Chelmsford Quilt Guild Library
Book Reviews, October 2009
Seeing Stars by Shelley Lynne Robson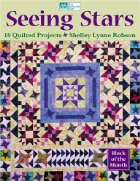 Has looking at our gorgeous Raffle Quilt inspired you to make a starry quilt? Then stop by the library for Seeing Stars by Shelley Lynne Robson. Organized as a Block of the Month with twelve monthly lessons you could use the book to produce a stunning star sampler, and I loved the pictures of these "Seeing Stars Quilts" in different color combinations.
Each chapter also focuses on an individual project featuring the lesson blocks. These include twin and baby quilts, great patriotic table runner and toppers, a 30's look Happy Birthday banner with adorable embellishments, placemats and napkins, and a pillowcase. For all you "type A"s Robson also has ideas to use up spare triangle squares left over from the projects. All in all a star of a book!
—Carlene Craib
Fat Quarter Quilts by M'Liss Rae Hawley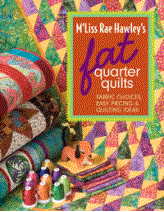 I admit it—I'm a sucker for a beautifully coodinated stack of fat quarters! What to do with those irrestible indulgences? M'Liss Rae Hawley's Fat Quarter Quilts may solve my problem.
The book would be great for beginners with valuable hints on fabric choice and basic cutting, picing, and assembly directions from squaring to creating a label.
A real plus for me was the large number of quilts from each design pictured in a variety of colors. That really brought home how different patterns look depending on your fabric choice. There were also some ideas for incorporating machine embroidery into your quilts. Her "creative options" boxes are thought provoking and practical. This book is a feast for the eyes and just what you need to whittle that stash down.
—Carlene Craib
Shoreline Quilts edited by Cyndy Rymer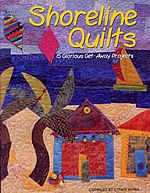 If you love the ocean and are drawn to nautical themes, this book will provide plenty of inspiration for piecing or appliqué projects. It is a compilation of designs from various quilters that were first shown at a "Down by the Sea" quilt festival.
Many of the designs have Massachusetts roots; for example, "Lobster for Dinner," a delightful appliqué complete with butter dish and a "Nantucket Lightship Basket" appliqué.
Several patterns combine piecing and other techniques, including "Fundy" that incorporates a "Snail's Trails" block with freezer paper pieced lighthouses, and a gorgeous combination of "Storm at Sea" and "Lady of the Lake" blocks with cheesecloth overlay and organza clouds called "Tsunami Morning: Wave of Grief." There are also two stunning Hawaiian reverse appliqué designs called "Cape Cod Lobsters" and "Kissing Dolphins." This book contains great designs to get you through the long winter looking forward to summertime fun.
—Carlene Craib