The Chelmsford Quilt Guild Library
Book Reviews, November 2009
More Reversible Quilts by by Sharon Pederson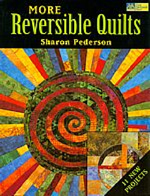 Theoretically, I suppose, all quilts are reversible. But if you have scads of gorgeous small cuts you'd like to use up or just want something more than a monolithic pretty print as the backing for your next quilt, consider turning to this book for some ideas.
A follow up to the very popular Reversible Quilting this book features somewhat smaller projects. It begins with information on the technique itself. Sharon Pederson's very clear instructions lead you step by step through making a basic block and several variations. She then does the same for sewing sashing strips and borders, again with variations offered. Binding and finishing instructions round out the technical information.
The rest of the book is made up of wonderful projects. I loved the "Salted Peanut Table Runner" that could be used for a first go at the technique and would make a great gift. Seeing both sides made me realize what a terrific technique this is—Thanksgiving and Christmas table decorations in one runner! Her "Fastest Ever Charity Quilt" pattern might interest some of you Lowell Wish quilt makers, and it offers a great way to make a backing from smaller cuts of fabric. The book includes directions for a memory quilt including photos, an "art quilt," a quilt incorporating embroidery, and a fabulous example with a star on one side and a pictorial on the other. For you cat lovers she offers "Not Enough Cats," a machine appliqué done in Japanese fabrics.
If you are looking for something new to try, this book should give you some interesting hours and be a "stash buster" to boot.
—Carlene Craib
Color Harmony for Quilts: A Quiltmaker's Guide to Exploring Color by Weeks Ringle and Bill Kerr

Are you the type who goes to the quilt shop and buys all the fabrics from one designer collection? Or one who plops down your pattern and looks around for help from the staff (that's me)? Or one who takes out 35 bolts, stacks them up and spreads them out looking for what "speaks" to you? Whatever your color style, this book will offer you much food for thought.
Color Harmony for Quilts offers a quick course to color theory for quiltmakers. Ringle and Kerr's thesis is that fiber artists should use color to reinforce an idea that can be summarized in a sentence or two, to be expressive of the meaning of the quilt. They mean for the book to help quilters develop a common vocabulary to talk about color and to gain analytical tools to use color with confidence. The book begins with an excellent general discussion of all the color choices that go into a quilt along with tips on choosing good quality fabric, something I have never seen in a quilting book before.
The book is divided into fifteen chapters, each based on a palette with a quilt demonstrating that palette. There is an artist's statement that explains the maker's intent in using the chosen colors, and then a color workshop section with suggestions for individual explorations and exercises for a group. The clear photos of the quilts highlight the quilting and the authors note how the quilting adds to the idea portrayed as well. The numerous illustrations show how variation in value, proportion, and hue can change the look of a pattern. They use basic quilt blocks to do this and I found that the concepts were very easily grasped. I thought the individual exercises to strengthen your sense of color were very creative. The group exercises to do in a class or with quilting friends made me want to have a color workshop at a Guild meeting and try some of these activities. Any volunteers out there?
Not being "artistic," I have long felt inadequate when it comes to choosing fabrics for my quilts. This book gave me a bit more confidence and I plan to use some of its advice in my next project and see what develops!
—Carlene Craib