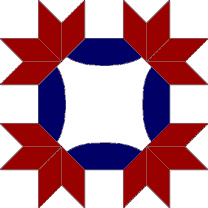 The Chelmsford Quilt Guild Library
Book Reviews, Sept 2009
Massachusetts Quilts Our Common Wealth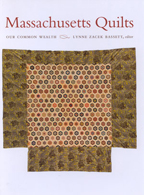 Many of us quilters are lucky enough to have cherished quilts lovingly passed down in our families that now have pride of place in our homes. The most recent addition to the CQG's library, Massachusetts Quilts Our Common Wealth, Lynn Zacek Bassett, Editor, will enrich your understanding of these important artifacts and give everyone who reads it an appreciation for the treasure trove of information inherent in them. This book was produced to accompany the summer exhibit at the NEQM that focused on the wonderful quilts documented by the Massachusetts Quilt Documentation Project.
The book is divided into three sections: History, Community, and Memory. Each section highlights numerous quilts with descriptive essays detailing the fabrics, techniques, and provenance of the pieces. And each entry is illustrated with stunning photographs including many close-ups of details. From whole cloth petticoats and quilts to intricately pieced mariner's compass tops, from richly detailed appliqués to elegantly embellished crazy quilts, the effect is overwhelming. Sometimes accompanied by photos of their makers, these quilts are a moving reminder that we stitch for our own pleasure, for the delight of our families and friends, and also as a legacy of our times and ourselves.
Once you have seen this book I think you will run right out to the NEQM to purchase your own copy to savor at leisure. A gem!
—Carlene Craib
21 Terrific Patchwork Bags
Vera Bradley, move over! The unique bags we quilters make from the wealth of fabric choices we have in our stashes easily rival any commercially made, mass-produced purses. All it takes are some attractive patterns and easy to follow directions and your bag wardrobe will be the talk of the town.
The CQG's library has a book to provide just what you need. 21 Terrific Patchwork Bags by Susan Briscoe includes patterns for several small purses, dressed up or down, totes, a gift bag for bottles, a backpack, and some wonderful specialty bags just right for stowing quilting and other needlework gear. The photos of finished bags are very appealing and the full color instructions and photographs show construction details clearly. With a "quilter's dozen" designs, this book will more than pay for itself in no time.
—Carlene Craib