The Search for the Star
Block 3: Sewing Directions, Part 2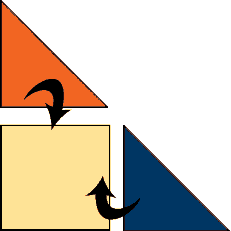 Using 2 of the medium/dark quarter-square triangles and 1 background 2" square, sew "wings" to two edges as shown in the picture.

Make sure that you get the triangles attached to the correct edges of the background squares. You need 36 of these segments.

You're getting close to the finish line. Sew some more of Block 3!
Need to review? Go back a page.
---

If you have any questions, contact