Where Does This Road Go?
Piecing The Blocks, Part 2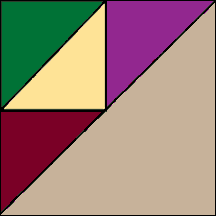 Add a triangle that you cut from the 5-1/2" background squares to get a square.
These triangles will be slightly larger than you need so that you can press it and then trim the square down so that the block measures 5" from edge to edge (4-1/2" finished size).
Your finished square should look like the one pictured.

Almost done with the blocks. Let's finish them!
Need to review? Go back a page
---

If you have any questions, contact